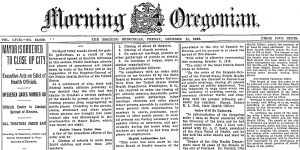 During the Spanish Flu pandemic (1918-1920) churches were called upon to not gather together. I came across this blog post from Geoff Chang which told of the experience of one church in the Northwest of the United States. It's worth a read.
It is an interesting post which includes a nice letter in which the pastor, W.B. Hinson, speaks about how sad it is to not gather together. This is what struck me: NOT gathering together for worship caused the people to realise how much they enjoyed gathering together!
Social distancing and isolation is not the way things are meant to be. I hope that this time away will cause us all to see how much we enjoy being together as God's people.
Hebrews 10:24-25 – And let us consider how to stir up one another to love and good works, not neglecting to meet together, as is the habit of some, but encouraging one another, and all the more as you see the Day drawing near.
If you want another historical perspective from the Spanish Flu pandemic and its effect on churches, try this article from Caleb Morell.